October 19, 2017
Texas Energy Report Closing Top Texas Energy Stocks
WTI down 0.64 to close at $51.40 - change 1.23%
Brent down 0.87 to close at $57.28 - change 1.50%
Natural gas up 0.03 at $2.89 - change 1.12%
---------------
CLOSING OIL & GAS STOCKS
Anadarko (APC) down 0.10 at 48.67 - change 0.21%
Apache (APA) down 0.50 at 42.15 - change 1.17%
Chevron (CVX) up 0.05 at 118.20 - change 0.04%
ConocoPhillips (COP) unchanged at 49.71 - change 0.00%
Devon (DVN) down 0.27 at 34.95 - change 0.77%
Energy Transfer (ETP) up 0.07 at 17.83 - change 0.39%
EOG Resources (EOG) down 0.90 at 95.76 - change 0.93%
ExxonMobil (XOM) down 0.02 at 82.74 - change 0.02%
Halcon (HK) up 0.16 at 6.44 - change 2.55%
Marathon Oil Corp. (MRO) down 0.03 at 13.74 - change 0.22%
Noble Energy (NBL) down 0.51 at 27.37 - change 1.83%
Occidental Petroleum (OXY) up 0.21 at 64.84 - change 0.32%
Parsley Energy (PE) down 0.49 at 26.11 - change 1.84%
Phillips 66 (PSX) up 0.15 at 90.39 - change 0.17%
Pioneer Natural Resources (PXD) down 2.11 at 142.98 - change 1.45%
Valero (VLO) up 0.01 at 77.63 - change 0.02%
---------------
CLOSING TOP UTILITY STOCKS
American Electric Power (AEP) up 0.82 at 73.83 - change 1.12%
Calpine (CPN) up 0.01 at 14.87 - change 0.07%
CenterPoint (CNP) up 0.17 at 29.75 - change 0.57%
Entergy (ETR) up 0.70 to close at 85.36 - change 0.83%
Exelon Corp. (EXC) up 0.15 at 39.77 - change 0.38%
NRG (NRG) down 0.41 at 25.54 - change 1.58%
Vistra Energy (VST) up 0.13 at 18.83 - change 0.70%
By Mike Shiloh
October 18, 2017
South Texas Oil Tank Fire Under Investigation
TCEQ and Railroad Commission investigators are looking for the cause of an oil tank explosion Tuesday in La Salle County, about 80 miles south of San Antonio.
Two oil field workers were taken to San Antonio hospitals by airlift with non-life-threatening injuries, according to the La Salle County Sheriff's Office, saying emergency crews arrived about 11 am to find "several" oil storage tanks engulfed in flames.
A new tank was being built at the Ledwig Ranch location, according to a spokesman for Carrizo Oil & Gas, Inc., based in Houston, which owns the tanks.
The fire investigation is being conducted by the sheriff's office along with the Railroad Commission of Texas and the Texas Commission on Environmental Quality.
By Mike Shiloh
Copyright October 18, 2017, Mike Shiloh, Texas Energy Report LLC, www.texasenergyreport.com, All rights are reserved
October 18, 2017
Crude down 5.7 million barrels: EIA
Commercial crude oil inventories fell by 5.7 million barrels last week, according to Wednesday figures from the US Energy Information Administration, when compared to the previous week.
S&P analysts had expected a crude drawdown of 3.9 million barrels.
The Cushing, OK oil storage hub was up 202,000 barrels.
Gasoline inventories were up by 900,000 barrels, and distillate fuel was up by more than  500,000 barrels.
US refineries were operating at 84.5% of capacity, with inputs averaging more than 15 million barrels a day.
And crude oil imports were averaging 7.4 million barrels per day.
Supplies are about 21% higher than the five-year average even though oil exports continue to rise.
The Wednesday EIA figures conflict slightly with American Petroleum Institute figures released Tuesday, in which API reported a huge draw on crude oil of more than 7 million barrels last week, with a build in gasoline inventories of nearly 2 million barrels and a drop in Cushing supplies of 151,000 barrels.
By Mike Shiloh
Copyright October 18, 2017, Mike Shiloh, Texas Energy Report LLC, www.texasenergyreport.com, All rights are reserved
October 17, 2017
Environmentalists, Some Locals Come Out Against KM Pipeline Proposal
Environmentalists and some officials are opposing a planned shift in the more than 70-year-old Tennessee Gas Pipeline.
The Federal Energy Regulatory Commission has already approved the pipeline's parent company, Houston-based Kinder Morgan's, request to sell the pipeline to another KM subsidiary, Utica Marcellus Texas Pipeline.
The line change was proposed more than two years ago to cease distribution of natural gas along the 964 miles pipeline that runs from Louisiana to Ohio and replace it with natural gas liquids (NGLs), reversing the flow from Ohio to Louisiana.
But along the route, the Kentucky Environmental Foundation has come out against the pipeline plan, with Program Director Craig Williams, saying "anyone who knows the basic principles of physics will realize it takes more pressure to move liquids than gas."
He cast doubt that the pipeline in its current condition can handle it.
Also on the pipeline route, Madison County, Kentucky, County Judge Reagan Taylor has questioned the ability of the pipeline to handle the weight of NGLs, quoted in the Richmond Register as calling the risks "numerous."
By Mike Shiloh
Copyright October 17, 2017, Mike Shiloh, Texas Energy Report LLC, www.texasenergyreport.com, All rights are reserved
October 17, 2017
PUC Okays Oncor-Sharyland Asset Swap
The Texas Public Utility Commission has okayed a planned $400 million asset swap between Oncor and Sharyland Utilities.
Under the agreement, Oncor Electric Delivery Co. LLC will gain about 54,000 new customers and continue to maintain 122,000 miles of transmission and distribution lines.
Sharyland Distribution & Transmission Services LLC will gain 258 miles of 345 kV transmission lines in west and central Texas from Oncor.
The transaction is expected to close by the end of the year, with the electrical control transition expected to take up to six months.
As a result of the agreement, Sharyland's customers are expected to see a considerable drop in their electricity rates, which were considered to have been exceedingly high.
When the agreement was announced in July, State Senator Kel Seliger called it "an important development in providing relief to the exorbitant rates Sharyland customers have experienced."
And State Representative Drew Darby, in the Midland Reporter-Telegram, called it "welcome news for our constituents with savings on the horizon, and I'm grateful for Oncor's progress here."
By Mike Shiloh
Copyright October 17, 2017, Mike Shiloh, Texas Energy Report LLC, www.texasenergyreport.com, All rights are reserved
October 17, 2017
California Energy Committee Resists NRG Power Plant Plan
A two-member committee has recommended that the California Energy Commission oppose the construction of a new gas-fired power plant that's being developed by Houston's NRG Energy.
In what the committee acknowledges as an unusual move, they recommended the state commission deny approval of the plant to be built in Oxnard, a suburb of Los Angeles, because the plant would not meet local and state regulations.
In a statement, NRG said it's confident that the proposed $300 million plant (that would generate 262 MW) could receive regulatory approval and would make a good replacement for two units of the Mandalay Generating Station in Oxnard, which are being phased out.
Environmentalists have said the gas-fired plant could have negative effects on air quality, pushing for renewable energy instead.
NRG added that it "favors California's move to a carbon-free electrical grid, but remains concerned about local reliability during the transition."
By Mike Shiloh
Copyright October 17, 2017, Mike Shiloh, Texas Energy Report LLC, www.texasenergyreport.com, All rights are reserved
October 17, 2017
Targa Joins With Blackstone, KM in Pipeline Ventures
Targa Resources has a new joint venture agreement to sell a 25% interest in the Grand Prix Pipeline to funds managed by Blackstone Energy Partners.
The Grand Prix, with completion expected by the second quarter of 2019, is intended to move 300,000 barrels per day of natural gas liquids (NGL) from the Permian Basin to Mont Bevieu, east of Houston.
Houston-based Targa has also signed a letter of intent with Kinder Morgan Texas Pipeline for Targa to own a 25% interest in the proposed Gulf Coast Express pipeline, which is expected to provide NGL from the Permian Basin to Gulf Coast markets.

Once completed in 2019, the Gulf Coast Express will be a new 300,000 barrel per day common carrier NGL pipeline from the Permian Basin to Mont Belvieu, Texas.
By Mike Shiloh
Copyright October 17, 2017, Mike Shiloh, Texas Energy Report LLC, www.texasenergyreport.com, All rights are reserved
October 17, 2017
Chaparral Goes All In On STACK
Chaparral Energy Inc. is exiting Texas to go all-STACK.
The Oklahoma City-based company said it's sold its North Burbank and Texas Panhandle EOR interests for $170 million, making Chaparral what it now calls a "pure play STACK operator."
Proceeds are expected to pay down debt, "increase liquidity and strengthen our already strong balance sheet," according to CEO Earl Reynolds.
"The sale will also materially lower our overall total operating cost structure, which we view as critical in this volatile commodity price environment."
The deal is expected to close next month.
Chaparral did not name the buyer, but Oil & Gas Investor said Monday that U.S. Securities and Exchange Commission documents list the purchaser as Perdure Petroleum LLC, a Delaware company.
By Mike Shiloh
Copyright October 17, 2017, Mike Shiloh, Texas Energy Report LLC, www.texasenergyreport.com, All rights are reserved
October 17, 2017
Gulf Oil Spill May Be Largest Since Deepwater Horizon
It turns out that a Gulf of Mexico oil spill that occurred last week may be the largest since the 2010 "Deepwater Horizon" spill.
The Delta House floating production facility about 40 miles (64 kilometers) southeast of Venice, Louisiana, released 7,950 to 9,350 barrels of oil from early Wednesday to Thursday morning, according to closely held operator LLOG Exploration of Lafayette, Louisiana, Bloomberg reports.
This spill may be large, but it's a fraction of the millions of barrels spilled in the 2010 incident.
Yet data from the US Bureau of Safety and Environmental Enforcement indicate this may be the largest spill in more than seven years.
By Mike Shiloh
Copyright October 17, 2017, Mike Shiloh, Texas Energy Report LLC, www.texasenergyreport.com, All rights are reserved
October 16, 2017
Another Conservative Group Objects to Perry's Power Plan: The Hill
An analyst for the American Action Forum (AAF) said the proposal, announced this month by Energy Secretary Rick Perry, aims to address a "real problem" with "not the best solution."
Philip Rossetti, an AAF data analyst, said the plan "does not promote a policy that would necessarily achieve" a more stable electricity system, and instead would "arbitrarily value nuclear and coal power above their market rates," he was quoted as saying in The Hill.
"The only effect of the [proposal] is to set an arbitrary target of on-site fuel requirements that values coal or nuclear power, regardless of if those sources are able to provide resiliency and reliability at least cost," Rossetti's analysis says.
Perry's proposal has run into headwinds since he unveiled it earlier this month.
The Institute for Energy Research, an energy think tank whose political side endorsed Trump, last week called the plan "excessive and unnecessarily distortive."
By The Hill
Copyright October 16, 2017, Mike Shiloh, Texas Energy Report LLC, www.texasenergyreport.com, All rights are reserved
October 16, 2017
US Electricity Production Mix Forecast: 2026
Source: BMI Research
By Mike Shiloh
Copyright October 16, 2017, Mike Shiloh, Texas Energy Report LLC, www.texasenergyreport.com, All rights are reserved
October 16, 2017
Wind could surpass coal by almost 10,000MW by end of next year in ERCOT: UT Austin Energy Institute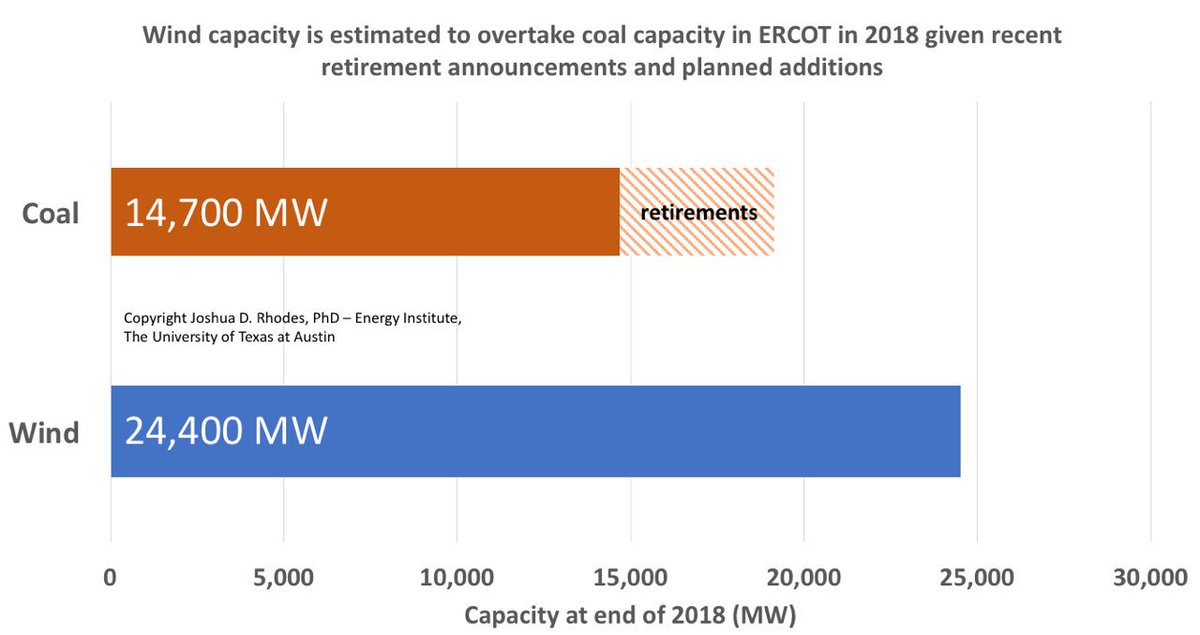 Wind capacity is estimated to overtake coal capacity in ERCOT given recent retirement announcements and planned additions; from Dr. Joshua Rhodes, research fellow at UT Austin's Energy Institute
By Mike Shiloh
Copyright October 16, 2017, Mike Shiloh, Texas Energy Report LLC, www.texasenergyreport.com, All rights are reserved
October 15, 2017
Oil Rig Explosion in Lake Pontchartrain, Louisiana
An oil rig reportedly owned by New Orleans-based Clovelly Oil Co. exploded in Lake Pontchartrain just north of Kenner, Louisiana on Sunday night.
One person is reported missing and six hospitalized following the blast that occurred about 7:20 pm, according to Jefferson Parish officials, who said they suspect that cleaning chemicals ignited on the surface of the platform.
There were no fatalities reported, but the one person listed as missing is an oilfield worker said to have been on the platform at the time of the explosion.
Kenner police said they're working with city firefighters and the US Coast Guard to put out the flames from the blast.
The New Orleans Advocate newspaper said Sunday night that there are reports that parts from the oil rig were sent flying by the explosive force, and some of those parts hit homes in the nearby city of Kenner.
By Mike Shiloh
Copyright October 15, 2017, Mike Shiloh, Texas Energy Report LLC, www.texasenergyreport.com, All rights are reserved
October 13, 2017
DOE, EPA Take On Energy, Environment Issues
By Alex Mills
The U.S. Department of Energy (DOE) and the Environmental Protection Agency (EPA) introduced recently two significant policy changes regarding energy following the release of studies that methane and carbon dioxide emissions continue to decline.
Energy Information Administration (EIA) said on Oct. 12 "energy-related carbon dioxide (CO2) emissions fell in both 2015 and 2017, and they are expected to fall again in 2017, based on forecasts in EIA's Short-Term Energy Outlook."
EPA announced on Oct. 6 declines in methane emissions during the past five years.
Apparently, the release of this data was coincidental to Energy Secretary Rick Perry's proposal to the Federal Energy Regulatory Commission (FERC) to implement a new market pricing policy allowing certain coal and nuclear plants to gain a competitive advantage on wholesale electric rates. Perry said this proposal would make the electric grid more reliable because coal and nuclear can stockpile fuel sources on site.
Other energy sources that provide power to utilities for electricity generation – such as natural gas, wind and solar – objected to Perry pushing the adoption of such a rule that would give some energy sources a competitive advantage dictated by the federal government. Opponents also pointed out that even though the FERC is a part of DOE, it has separate commissioners who are appointed by the President and act independently of the Energy Secretary. Two of the three current FERC commissioners questioned Perry's proposal and one, Commissioner Rob Powelson, said that FERC "will not destroy the marketplace."
While Perry was trying to smooth the troubled waters, EPA Administrator Scott Pruitt on Oct. 10 signed a document beginning the process to change the regulations to the Clean Air Act implemented by the Obama Administration, which are called the Clean Power Plan.
The proposed changes will be published in the Federal Register with a 60-day comment period.
"The Obama administration pushed the bounds of their authority so far with the CPP that the Supreme Court issued a historic stay of the rule, preventing its devastating effects to be imposed on the American people while the rule is being challenged in court," said Pruitt. "We are committed to righting the wrongs of the Obama administration by cleaning the regulatory slate. Any replacement rule will be done carefully, properly, and with humility, by listening to all those affected by the rule.
"EPA will respect the limits of statutory authority. The CPP ignored states' concerns and eroded longstanding and important partnerships that are a necessary part of achieving positive environmental outcomes. We can now assess whether further regulatory action is warranted; and, if so, what is the most appropriate path forward, consistent with the Clean Air Act and principles of cooperative federalism," Pruitt said.
The regulation adopted by Obama's EPA required each state to develop plans to reduce emissions from electric utilities.
The rule has been on hold since February 2016 when the Supreme Court put an unprecedented halt on it while litigation brought by Republican states and industry groups proceeded.
Alex Mills is President of the Texas Alliance of Energy Producers. The opinions expressed are solely those of the author.
By Alex Mills
Copyright October 13, 2017, Mike Shiloh, Texas Energy Report LLC, www.texasenergyreport.com, All rights are reserved
October 12, 2017
Speaker Straus Announces Economic Policies Study Committee
It's time to highlight what makes Texas a great place to do business, Texas House Speaker Joe Straus said Thursday.
At a breakfast with the Austin Chamber of Commerce, the San Antonio Republican said he's named a committee to identify policies that attract business to the state.
The House Select Committee on Economic Competitiveness will be chaired by Corsicana Representative Byron Cook, with Houston Democrat Senfronia Thompson as vice chair.
Straus said he hopes the committee will help bring the state forward from what he called "wedge" politics that included the "bathroom bill" steered by Lt. Governor Dan Patrick during the 2017 legislative session and the special session that followed.
By Mike Shiloh
Copyright October 12, 2017, Mike Shiloh, Texas Energy Report LLC, www.texasenergyreport.com, All rights are reserved
October 12, 2017
British Investment Group Buys Into Del Rio-Area Wind Farm
Great Britain's John Laing Group is buying a majority stake in the partnership that controls the upcoming Rocksprings 150 MW wind project north of Del Rio in Val Verde County.
French renewable power investor Akuo Energy is selling its stake in Rocksprings for $85 million. The company purchased the project from SunEdison as part of the latter's bankruptcy.
Rocksprings will be 53 General Electric 2.3 MW turbines and 16 1.72 MW units, with corporate commitments for output sales that include Wal-Mart Stores Inc.
The project is expected to be completed by the end of the year.
The British company has already acquired major interests in two renewable power projects outside Texas.
By Mike Shiloh
Copyright October 12, 2017, Mike Shiloh, Texas Energy Report LLC, www.texasenergyreport.com, All rights are reserved
October 12, 2017
Fieldwood Wants to Be Reach Milestone In Private Mexico Offshore Drilling
It would be something of a milestone -- the first private offshore driller to produce oil in Mexico in 80 years -- and Houston's Fieldwood Energy LLC is plunging ahead.
The four-year-old company already claims to be the biggest shallow-water operator on the US side of the Gulf of Mexico, investing $5 billion to buy up offshore assets.
Now the company's president and CEO Matt McCarroll says Fieldwood, backed by Riverstone Holdings LLC, will likely begin drilling on the Mexico side of the border in 2018, with plans for 2019 production.
The company won rights in Mexico's second-ever oil auction last year to develop crude in two shallow-water offshore fields, bidding in a joint venture with Mexican company Petrobal.
The blocks are expected to potentially contain more than 400 million barrels of oil, McCarroll said.
By Mike Shiloh
Copyright October 12, 2017, Mike Shiloh, Texas Energy Report LLC, www.texasenergyreport.com, All rights are reserved
October 12, 2017
Williams Partners Increases Gas Delivery to NYC
Williams Partners LP has completed an expansion of its Transco pipeline system, resulting in increased natural gas delivery to New York City.
Williams has upped capacity delivery with its New York Bay Expansion Project by 115,000 dekatherms per day, just as the winter season begins to move in to the northeast.
The natural gas is delivered to National Grid Co., the largest northeastern distributor, serving 1.8 million people in Brooklyn, Long Island, Queens and Staten Island.
The expansion will help secure natural gas supplies in the New York City area,National Grid's President Ken Daly said this week, "as we have seen with the recent storms that have devastated other states and neighboring regions, the security of energy supply needs to be protected and enhanced.
The enhanced pipeline "will help ensure safe, reliable and secure energy to meet our customers' needs," he said.
By Mike Shiloh
Copyright October 12, 2017, Mike Shiloh, Texas Energy Report LLC, www.texasenergyreport.com, All rights are reserved
October 12, 2017
BNP Paribas Makes Sweeping Announcement to Cut Business With Tar Sands, Pipelines and LNG: News Release
Groups have denounced BNP Paribas for its support of the Texas LNG export project in the Rio Grande Valley; announcement comes amid pressure from growing coalition of Indigenous groups and environmental organizations
Paris, France -- BNP Paribas, Europe's second largest bank, has announced that it would no longer do business with companies whose primary business activity is connected with oil and gas from shale and/or oil from tar sands.
BNP Paribas also announced that it will not finance any oil or gas projects in the Arctic region.
The announcement was welcomed by Rainforest Action Network (RAN), Save RGV from LNG, and Friends of the Earth (FOE) France, who put pressure on the bank for its support of extreme fossil fuel projects, which put the bank out of compliance with ambitions to keep global warming below 2°C by the end of the century.
"BNP Paribas' new commitment is the most comprehensive oil and gas policy of any big bank, and represents a significant step forward in recognition of the devastating Indigenous rights and climate impacts that result from bankrolling the tar sands, fracked oil and gas from shale, and liquefied natural gas (LNG) terminals that export shale gas," says Jason Disterhoft, Senior Campaigner at Rainforest Action Network.
"Other banks must follow BNP Paribas' lead and stop extreme fossil fuels. Whether or not they continue to finance dirty energy will be a key test of their seriousness on climate change and human rights."
RAN, FOE France, and Save RGV from LNG issued a report earlier this year entitled "BNP Paribas vs. Communities and Climate," condemning BNP Paribas for its support of the Texas LNG export project in the Rio Grande Valley, Texas, and coordinated an Indigenous delegation that traveled from Texas to take their message directly to the bank in Paris.
"We traveled from Texas to France to tell the big banks directly that Texas LNG would destroy our sacred indigenous sites, spew pollution into our communities, and scar our pristine gulf coast," says Rebekah Hinojosa of Save RGV from LNG.
"This is a huge victory for the indigenous and people of color communities in Texas that have been resisting the fossil fuel industry. The fight is not over: Société Générale, another large French bank, should follow BNP Paribas and end support for the Rio Grande LNG terminal proposed for our region."
BNP Paribas now states its commitment to bringing its financing and investment activities in line with the Paris Agreement, which aims to keep global warming below 2°C by the end of the century.
Under the new policy, the bank will not support new exploration, production, transportation and export projects related to tar sands, shale gas, and oil projects in the Arctic.
Significantly, the bank has also committed not to finance companies where 30% or more of their business is in these activities.
BNP Paribas will therefore not finance TransCanada's Keystone XL pipeline, Enbridge's Line 3, nor any other tar sands pipeline project in North America. BNP Paribas will also not finance Texas LNG or any other liquefied natural gas export terminal or gas pipeline in North America, as most gas for LNG production is slated to come from fracked shale gas.
Jean-Laurent Bonnafé, Chief Executive Officer of BNP Paribas, says: "We're a long-standing partner to the energy sector and we're determined to support the transition to a more sustainable world.
"As an international bank, our role is to help drive the energy transition and contribute to the decarbonisation of the economy.
"As we have announced, we're committed to working with and supporting those energy sector partners who have decided to make environmental issues a central part of their business policy."
By Rainforest Action Network
Copyright October 12, 2017, Mike Shiloh, Texas Energy Report LLC, www.texasenergyreport.com, All rights are reserved
October 12, 2017
BlueCrest Planning 2018 Alaska Drill
Ft. Worth oil producer BlueCrest Alaska Operating intends to drill at least one new Alaska well in 2018 from its onshore pad, regulatory filings show.
The well would be between Anchor Point and Ninilchik, according to a plan of development it submitted Sept. 27 to the Alaska Department of Natural Resources' Division of Oil and Gas.
BlueCrest previously halted drilling in August 2017 — after drilling two of the five wells it had planned that year — citing the state government's nonpayment of about $75 million in refundable tax-credits owed under Alaska's oil and gas tax credit program, according to the Kenai, Alaska, Peninsula Clarion.
By Mike Shiloh
Copyright October 12, 2017, Mike Shiloh, Texas Energy Report LLC, www.texasenergyreport.com, All rights are reserved
October 12, 2017
Lilis Adds 4,000 Permian Acres
Permian Basin exploration and developer Lilis Energy has agreed to buy more than 4,000 acres that'll be good for long-lateral development from an unnamed private seller.
The Permian contiguous or overlapping acreage price is $45.6 million and will raise San Antonio-based Lilis' Delaware Basin acreage to more than 15,000 net.
Lilis said it has one rig operating and another is planned to start by the end of October.
By Mike Shiloh
Copyright October 12, 2017, Mike Shiloh, Texas Energy Report LLC, www.texasenergyreport.com, All rights are reserved
October 12, 2017
Lubbock Oilfield Services Co. Buys Equipment Provider, Moves Office
Texas oilfield services provider Danos has acquired Renegade Backhoe Services of Levelland to augment Danos' construction operations in West Texas and Eastern New Mexico.
Levelland is just west of Lubbock.
Renegade's assets include dump trucks, heavy-haul trailers and backhoes.
General Manager of US Land Operations for Danos Jeremy Adkins said, "In addition to our well-established production and roustabout lines of services, Danos can now offer support for construction operations to customers in Western Texas and Eastern New Mexico."
Closely-held Danos is moving its Lubbock office to a larger space in Levelland, closer to its northern Permian Basin field offices, to accomodate the acquired inventory.
By Mike Shiloh
Copyright October 12, 2017, Mike Shiloh, Texas Energy Report LLC, www.texasenergyreport.com, All rights are reserved
October 12, 2017
Oil Inventories Down, 2018 Demand Bearish: EIA
US commercial oil inventories fell by 2.7 million barrels last week, according to new figures from the Energy Information Administration on Thursday.
Many analysts had expected a drop of only about 800.000 barrels.
Gasoline stockpiles were up by 2.5 million barrels, about five times more than many analysts expected, while distillate inventories were down by 1.5 million barrels, while analysts expected a 2.2 million barrel drop, EIA figures show.
Cushing, Oklahoma crude stocks, however, were up last week by 1.3 million barrels.
The American Petroleum Institute said Wednesday that U.S. stockpiles were up by 3.1 million barrels.
Crude runs by refineries were up by 229,000 barrels a day, with utilization rates up by 1.1& to 89.2% of total capacity.
The weekly EIA report, usually released on Wednesdays, was one day late because of the Columbus Day holiday on Monday.
And the IEA said on Thursday that demand for OPEC oil would be 32.5-million barrels per day (bpd) next year — about 150,000 bpd lower than the group pumped last month, indicating that OPEC needs to cut its production even more than it has in order to boost the oil markets.
The estimate indicated that crude stockpiles may not continue falling much longer.
Despite OPEC efforts, oil stockpiles are still running 13% higher than five-year averages.
By Mike Shiloh
Copyright October 12, 2017, Mike Shiloh, Texas Energy Report LLC, www.texasenergyreport.com, All rights are reserved
October 11, 2017
Shell Restarting Deer Park Distillation
Royal Dutch Shell Plc has been restarting the small crude distillation unit at its 325,700 barrel-per-day (bpd) joint-venture refinery at Deer Park near Houston, Reuters reports.
Shell spokesman Ray Fisher said operations at the refinery were stable on Tuesday, but declined to discuss the status of individual units.
The 70,000 bpd CDU was originally shut by an Aug. 17 fire on the 270,000 bpd CDU at the refinery, the sources said.
By Reuters
Copyright October 11, 2017, Mike Shiloh, Texas Energy Report LLC, www.texasenergyreport.com, All rights are reserved
October 11, 2017
Congress Begins Work On Tax Reform
By Alex Mills
President Trump kicked off his campaign to encourage Congress to begin serious discussions regarding tax reform.
U.S. Rep. Kevin Brady (R-Tx.), chairman of the tax-writing Ways and Means Committee, has been advocating tax reform for more than a year. The proposed changes are outlined in his Tax Blueprint, which included a white paper "A Better Way: Our Vision for a Confident America" issued on June 24, 2016 five months before Donald Trump was elected President.
Provisions in the Blueprint - designed to lower the tax rates, increase economic activity, and simplify the tax code - are still the cornerstone of tax reform discussions on Capitol Hill.
The Blueprint is divided into individual and corporate tax sections.
The individual tax return has been simplified so most taxpayers can fill out their federal income taxes on a postcard. First, determine taxable income by adding wages and other compensation to half of investment income. Then subtract specified saving plan contributions and the standard deduction allowed by IRS to determine total taxable income. (Taxpayers have the option can substitute mortgage interest deduction and charitable contributions in place of the standard deduction.)
Taxpayers also may deduct the child credit, earned income credit and higher education credit from the preliminary taxes owed according to the tax chart.
The new tax rates will be reduced to three (12, 25 and 33 percent) from the current seven rates.
The corporate tax overhaul has some interesting and controversial provisions. Reducing the maximum tax rate to 20 percent, reducing tax on dividends and capital gains by 50 percent, making the research-and-development credit permanent, and repealing the alternative minimum tax and the estate tax have immediate appeal.
One of the most controversial provisions is called the "border adjustability" provision.
"Under our current broken tax code, U.S. companies pay a tax when exporting products, but not when they import products," Brady explains in the Blueprint. "To avoid paying that tax on exports, U.S. companies move jobs, research, and headquarters overseas. That way, the products they sell abroad are not subject to U.S. tax and the products they import back to the U.S. are not subject to U.S. tax.
"Under our Buleprint, 'Made in America' products will no longer be taxed and imports will be subsidized – setting our manufacturers up for success around the world," Brady said.
He said under current tax policies, "U.S. companies are taxed when they sell their product in foreign markets – a tax not imposed on a foreign competitor selling in the same markets. Our Blueprint levels the playing field, ensuring that competition is based on quality, price, and service – not outdated tax regimes,"
Brady suggested a 20-percent tax rate on imports.
In the petroleum industry, refineries that import crude oil strongly oppose the import tax. Oil producers, especially many independents, have advocated a tax on imported oil since the 1970s. Independents have pointed out the economic and national security benefits of taxing imported oil, but both Republican and Democratic presidents have not implemented such a tax.
Now, policymakers in Washington will have a chance to make tax reform and tax simplification a reality with the Tax Blueprint as a starting point.
Alex Mills is President of the Texas Alliance of Energy Producers. The opinions expressed are solely those of the author.
By Alex Mills
Copyright October 11, 2017, Mike Shiloh, Texas Energy Report LLC, www.texasenergyreport.com, All rights are reserved
October 11, 2017
Dakota Access to Stay Open During Army Corps Review: Judge
The Dakota Access pipeline will continue operation while more environmental studies are completed.
A Washington DC federal judge ruled Wednesday that Energy Transfer Partners' pipeline can continue moving crude oil while the Army Corps of Engineers conducts its review of the portion of the line that runs under a North Dakota lake.
The judge agreed with Native American groups that a continued environmental study is appropriate, but decided that the pipeline can continue shipping along its 1,200 miles to Illinois, which has been underway since the line opened in June.
District Court Judge James Boasberg said he will be keeping an eye on the Army Corps to be certain its review is thorough.
By Mike Shiloh
Copyright October 11, 2017, Mike Shiloh, Texas Energy Report LLC, www.texasenergyreport.com, All rights are reserved
October 11, 2017
The long-dormant Amoco gasoline retail brand is being brought back by BP PLC, trademark owner.
US station owners will be given the option to switch their BP stations to Amoco in a move aimed at helping retailers compete when there are multiple BP-branded stations within close proximity, BP said.
Amoco was once the Indiana portion of Standard Oil Co.
BP bought the company in 1998 and phased out the brand in the early 2000s.
By Mike Shiloh
Copyright October 11, 2017, Mike Shiloh, Texas Energy Report LLC, www.texasenergyreport.com, All rights are reserved
October 10, 2017
Texas' Monticello Coal Plant Announces Plans To Close: Sierra Club Statement
Irving, TX -- The energy company Luminant announced plans to retire its massive Monticello coal plant in January 2018. This plant, in the Mt. Pleasant community of Titus County, Texas, is currently one of the largest and dirtiest coal plants remaining anywhere in the United States.
With this announcement, Monticello becomes the 259th coal plant to retire or announce to retire in the U.S. since 2010, and means the U.S. is just three plants away from retiring or announcing to retire half of the coal plants that were operating just seven years ago. Clean air advocates cited this as further evidence of an "unstoppable shift" away from dirty coal and toward clean energy.
As a result of Sierra Club's legal advocacy, the plant was designated as violating health-based air quality safeguards for dangerous sulfur dioxide. This is is currently the subject of a federal clean air act lawsuit pending in the U.S. Court of Appeals for the Fifth Circuit. The plant pollutes air quality in 17 national parks and wilderness areas across the central United States. Public health analyses have shown that pollution from Monticello, by itself, causes or contributes to more than 5,800 asthma attacks, 156 premature deaths, and more than 23,500 lost or restricted work days every year, resulting in more than $1.5 billion in public health and lost productivity costs annually.
In response, Misti O'Quinn, Organizing Representative with the Beyond Coal Campaign in Texas, issued the following statement:
"Today we learned that Luminant has made the decision to finally and forever stop burning coal at its Monticello plant near Mt. Pleasant, Texas. This plant has been emitting toxic and dangerous air and water pollution into Texas and the region for more than 40 years. Our communities in Dallas have borne the brunt of dangerous smog pollution for decades and coal plants like Monticello have been a huge source of that pollution. We've been organizing for years to fight dirty coal that harms our communities. This is great news for families living near the coal plant in an area the EPA has identified as out of compliance with the clean air standard for sulfur pollution, as well as for those of us with kids and loved ones suffering from respiratory disease like asthma across the state."
In response, Bruce Nilles, Director of Sierra Club's Beyond Coal Campaign, issued the following statement:
"The retirement of one of America's dirtiest coal plants demonstrates once again that dirty coal can't compete against clean, renewable energy. When this plant retires Texans and communities all the way to the Eastern Seaboard will be breathing cleaner. As this unstoppable shift to clean energy moves forward, it's essential that we shape this transition, making sure the communities that once relied on coal can benefit not only from cleaner air, but from new clean and sustainable family-supporting jobs."
Clean energy like wind and solar is rapidly replacing uneconomical, dirty coal plants across the country as America transitions to a clean energy economy. In addition to executing their grassroots based, nationwide campaigns to quicken this transition, Sierra Club and its partners are proactively advocating for the development of programs and policies that help displaced fossil fuel workers find good, union wage jobs in the clean energy space.
About the Sierra Club
The Sierra Club is America's largest and most influential grassroots environmental organization, with more than 2.4 million members and supporters. In addition to helping people from all backgrounds explore nature and our outdoor heritage, the Sierra Club works to promote clean energy, safeguard the health of our communities, protect wildlife, and preserve our remaining wild places through grassroots activism, public education, lobbying, and legal action. For more information, visit www.sierraclub.org.
By Sierra Club
Copyright October 10, 2017, Mike Shiloh, Texas Energy Report LLC, www.texasenergyreport.com, All rights are reserved
October 10, 2017

Trump Attack on Clean Power Plan Attempts to Undermine Texas Clean Air and Clean Energy Success: Sierra Club

Austin, TX - Donald Trump and his EPA Administrator, Scott Pruitt, announced today that they will repeal the Clean Power Plan, which was designed to empower states in the energy policy environment. It would have reduced carbon pollution, protected the health of Texas children, and created high-quality renewable energy jobs across the state.

The Clean Power Plan protects the health of our families and communities by curbing dangerous, climate-disrupting carbon pollution that is exacerbating extreme weather events, as well as reducing other harmful pollutants that contribute to dangerous smog and soot, causing heart attacks, respiratory illnesses, and even premature deaths. That is especially important to Texas considering power plants in Texas emit more than 240 million tons of carbon dioxide every year. Texas is far and away the leader on carbon dioxide emissions from power plants.

The Environmental Protection Agency (EPA) previously projected that the Clean Power Plan would prevent 90,000 childhood asthma attacks, 300,000 missed work and school days, and 3,600 premature deaths annually by 2030. Also, Texas was required under the Clean Power Plan to reduce emissions by 51 million tons of CO2 by 2030. The Plan would have resulted in annual climate benefits of $20 billion and annual health benefits of between $14 and $34 billion. It would also reduce the average consumer's electricity bill by $85 per year and save consumers a total of $155 billion over the course of the next decade.

Wind companies have already installed more than 20,000 MWs of wind in our grid, and through August, wind energy supplied 17 percent of our electric needs in our Texas-only grid. The Electric Reliability Council of Texas (ERCOT) is projecting significant growth for both solar and wind through 2030, and also projects that renewable resources will increasingly displace older coal and natural gas generation in the future. This is important for communities like Dallas, San Antonio and Houston, which face significant pollution impacts from coal and whose children and elderly suffer from respiratory issues due to sulfur dioxide from coal plants.

The Trump administration's attempt to roll back progress on climate action will run up against the reality that clean energy is expected to continue growing dramatically in Texas. The Lone Star state leads the nation in wind energy and is ranked 6th in installed solar energy in 2016. Texas wind farms produced enough energy to power more than 5.7 million homes and provide more than 25,000 jobs. The Plan would have supported Texas' growing clean energy economy and provided flexibility and opportunities for state leaders to chart how Texas would continue to be an energy leader in the future.

In Response, Cyrus Reed, Conservation Director, Lone Star Chapter of the Sierra Club,  Released the Following Statement:

"By gutting the Clean Power Plan, Pruitt's EPA is turning its back on a real opportunity to improve people's lives. The Clean Power Plan protects the future for our families and communities by curbing carbon pollution, which is leading to climate change, while giving flexibility to states on how best to bring on renewable energy and more energy-efficient buildings and appliances. We don't have to look far to see the impacts of more extreme weather events, as the Texas Gulf Coast continues to dig out from the devastation of Hurricane Harvey; while our neighbors in Florida deal with Irma's impacts and our friends in Puerto Rico face unheard of challenges in the wake of Hurricane Maria.

>"Despite this unnecessary and unwise decision, the coal industry will continue to be at a disadvantage as Texas continues to add more wind and solar energy, which provides carbon free power and thousands of job opportunities for Texans every year. Just last week, we saw that Texas's largest coal power generator, Luminant, has made the decision to retire one of Texas' largest and dirtiest coal plants, Monticello. While today's news about the Clean Power Plan is no doubt a setback, the fight against this dangerous decision is only just beginning. Sierra Club and our allies will ensure that our voices are heard as EPA goes about its attempt at unwinding the Clean Power Plant and will ensure that carbon pollution is regulated as required by the Clean Air Act. And we will continue to work at the local level to create more solar, wind and energy efficiency resources and jobs to our communities."

By Sierra Club
Copyright October 10, 2017, Mike Shiloh, Texas Energy Report LLC, www.texasenergyreport.com, All rights are reserved
October 10, 2017

Texas Energy Companies Win Top National Environmental Stewardship Award: Press Release

Pioneer & Fasken Recognized for Water Conservation Efforts

AUSTIN - The Interstate Oil and Gas Compact Commission (IOGCC) today announced the winners of its 2017 Chairman's Stewardship Awards, honoring two Texas energy companies for success in water conservation efforts. Both companies were nominated in their respective categories by the Railroad Commission of Texas.

The winners are:

Fasken Oil and Ranch, Midland, Texas - Small/Independent category;

Pioneer Natural Resources, Irving, Texas - Environmental Partnership category.

Fasken Oil and Ranch

To preserve fresh water resources in the Permian Basin, Fasken began recycling produced water 2013 and using it in its well drilling and cementing processes. By 2014, Fasken was processing 12,000 barrels (barrels per day) of recycled water for use. This process allowed Fasken to discontinue use of fresh water from the Ogallala Aquifer for drilling operations. By the end of June 2014, Fasken completely discontinued using fresh water for drilling and well completion operations. This conserves approximately 2.7 million gallons of fresh water that otherwise would have been used for every well drilled.

 

Pioneer Natural Resources

Pioneer has created Pioneer Water Management, LLC (PWM), a dedicated subsidiary focusing on water conservation and providing non-fresh water supplies to Pioneer's operations. Among key water conservation programs initiated by PWM:

p>Using treated industrial and municipal wastewater - PWM purchases non-potable, effluent water from multiple sources in Texas. Pioneer contracts with the City of Odessa, Texas to purchase effluent municipal water from the city, reducing the need for fresh water in its operations.

Using brackish, non-drinkable groundwater - PWM taps brackish groundwater when possible for use in its operations and continues to add new projects to further increase brackish water usage.

Recycling produced water - PWM is continually exploring economically viable solutions for produced water reuse that will provide another significant alternative to fresh water use.

The Offshore Energy Center (OEC)
The Railroad Commission also congratulates The Offshore Energy Center (OEC), based in Houston, Texas, for their selection as the IOGCC's 2017 Energy Education Award recipient. The OEC is a not-for-profit organization that promotes awareness and understanding of the oil and gas industry to the public and academia. The OEC has developed curriculum materials for all grade levels and provides these materials free to schools.

More information on the IOGCC's Chairman's Stewardship Awards is available HERE. IOGCC is a multi-state government agency that is passionate about advancing the quality of life for all Americans. However, without energy, the quality of life we enjoy today would not exist. That's why the IOGCC works to ensure our nation's oil and natural gas resources are conserved and maximized while protecting health, safety and the environment. Currently, Railroad Commissioner Wayne Christian serves as Gov. Greg Abbott's designee representing Texas in the IOGCC.

By Railroad Commission of Texas
Copyright October 10, 2017, Mike Shiloh, Texas Energy Report LLC, www.texasenergyreport.com, All rights are reserved
October 10, 2017
NRDC Report: Clean Energy Revolution Shatters Records & Projections: Press Release
4,500% Improvement for Solar: Comparing 2016 Outcomes to 2006 U.S. Forecasts Shows Stunningly Better-Than-Expected Results
Washington DC -- Just how fast is the U.S. clean energy revolution unfolding?
America's 2016 solar energy capacity was 4,500 percent higher than government experts predicted 10 years earlier while the nation's wind supply was 350 percent above their forecast, according to a Natural Resources Defense Council (NRDC) report released today.
NRDC's fifth annual energy report, America's Clean Energy Revolution, confirms the massive shifts in the nation's energy landscape, dominated by clean energy progress, both with records shattered in the past year and a half and from what the U.S. Energy Information (EIA) projected a decade earlier.
"America's clean energy revolution proves that we don't have to choose between the environment and a booming economy," said Amanda Levin, report co-author and NRDC clean energy advocate. "Clean energy not only cuts pollution, it's also one of the fast-growing areas for U.S. jobs and contributes billions to our nation's economy annually.
"When you look at how clean energy development has exploded beyond official government projections from just 10 years ago, it offers hope that its potential will continue to far surpass expectations and we'll meet our U.S. climate goals," she said.
Available online at https://www.nrdc.org/sites/default/files/energy-environment-report-2017.pdf , the NRDC report shows the EIA in 2006:
Misjudged the huge increases in solar power, forecasting less than 1 gigawatt (GW) of installed solar by 2016 when the total was 46 times that amount, and no more than 18 GW of wind power, when it reached 82 GW – a nearly five-fold increase.
Overestimated the 2016 level of carbon dioxide pollution, which at 5.17 billion tons was 25 percent, or 1.67 billion tons, lower than forecasted.
Misread the rise of energy efficiency, which contributed to keeping U.S. energy consumption at 96.5 quads of energy, 17 percent below EIA's projection of 115.6 quads.
Did not anticipate the demise of coal-fired power, which dropped 45 percent from the projected level of 2,235 terawatt hours (TWh) to 1,240 TWh.
In short, America's clean energy revolution has taken root far more than expected and all signs point to continued growth.
"Dozens of clean energy records have been shattered across the United States in the last year and a half. And despite some new political headwinds, ever-improving economics will propel the clean energy transition in the years to come," said co-author Ralph Cavanagh, co-director of NRDC's energy program.
Other key findings in NRDC's annual report:
For the first time since 1960, the average U.S. household spent less than 4 percent of its income on all energy in 2016—including gasoline and electricity spending—despite the much larger number of electronic gadgets and appliances we now use.
The U.S. economy grew by 17 percent between 2005 and 2016 while carbon dioxide emissions fell by 14 percent and energy use remained flat. This is in large part due to energy efficiency, the most productive and cost-effective way to meet U.S. energy needs.
Renewable energy grew to 14 percent of total U.S. electricity sales in 2016, with wind and solar amounting to 8 percent and hydropower and geothermal accounting for the other 6 percent. More than 14 GW of solar capacity was added in 2016 — almost double the record-breaking new amount in 2015. And for the first time in U.S. history, wind and solar energy made up more than 10 percent of all monthly electricity generation.
The co-authors have posted a related blog at: https://www.nrdc.org/experts/amanda-levin/clean-energy-momentum-remains-strong-despite-federal-changes
By Mike Shiloh
Copyright October 10, 2017, Mike Shiloh, Texas Energy Report LLC, www.texasenergyreport.com, All rights are reserved
October 10, 2017
AG Paxton Applauds Trump Administration's Repeal of the Unlawful Obama-Era Clean Power Plan: Press Release
AUSTIN – Attorney General Ken Paxton Tuesday praised the U.S. Environmental Protection Agency's (EPA) decision to repeal the unlawful Obama-era Clean Power Plan, a job-killing regulation that Texas, West Virginia and 22 other states successfully challenged all the way to the U.S. Supreme Court.
"We appreciate the Trump administration's recognition that the Clean Power Plan is unlawful and bad energy policy for Texas and the rest of the nation," Attorney General Paxton said. "It's gratifying that our lawsuit against Obama-era federal overreach was a catalyst for repeal of the plan. We look forward to working with the administration to craft a new strategy that will protect the environment without hurting jobs and the economy."
Last year, Texas and the multi-state coalition won a stay in the Supreme Court against the Clean Power Plan while the case was litigated in the D.C. Circuit Court of Appeals. On March 28, President Trump signed an executive order directing the EPA to unwind the plan. A month later, the D.C. Circuit Court placed the case on hold so the EPA would have time to review the energy regulation.
The Clean Power Plan would have subjected Americans to higher electricity costs and could have weakened the nation's power grid. The Heritage Foundation estimates that the bill would have resulted in an average annual loss of nearly 400,000 jobs, increases of 13-to-20 percent in household electricity expenditures, a total income loss of more than $20,000 for a typical family of four, and an aggregate loss of over $2.5 trillion in gross domestic product by 2035.
By Attorney General of Texas
Copyright October 10, 2017, Mike Shiloh, Texas Energy Report LLC, www.texasenergyreport.com, All rights are reserved
October 10, 2017
RRC Commissioners Appoint Interim Executive Director: News Release
Austin - Railroad Commission Chairman Christi Craddick and Commissioners Ryan Sitton and Wayne Christian Tuesday voted unanimously to appoint Wei Wang to serve as interim executive director, effective Oct. 16, 2017.
Wang currently serves as the agency's Chief Financial Officer. Wang will serve in this dual capacity while the Commission conducts a search for a permanent executive director to lead the agency's day-to-day operations.
Chairman Craddick said, "Wei has the experience and institutional knowledge necessary to fulfill the important mission of the agency. We appreciate his assistance and anticipate the positive impact that his expertise will bring during this transition period."
Commissioner Sitton said, Wei has done a phenomenal job as chief financial officer and I'm confident in his ability to serve as interim executive director. He has been an instrumental member of our leadership team and is fully committed to the Railroad Commission's mission to serve and protect the public and environment."
Commissioner Christian said, "Wei has proven himself to be an effective leader at our agency, and has earned the respect of his fellow team members across the Commission. Our agency is in capable hands with Wei in the interim as we move forward with the search for an Executive Director."
By Railroad Commission of Texas
Copyright October 10, 2017, Mike Shiloh, Texas Energy Report LLC, www.texasenergyreport.com, All rights are reserved
October 10, 2017
IECA Urges Withdrawal of Grid Resiliency Pricing Rule: Press Release
WASHINGTON, DC – The Industrial Energy Consumers of America's (IECA) President, Paul N. Cicio, issued the following statement today regarding a letter that IECA sent to the U.S. Congress. The letter urges Congress to communicate with the Secretary of Energy Rick Perry to request the withdrawal of the Grid Resiliency Pricing Rule, Docket No. RM18-1-000, which the Secretary sent to the Federal Energy Regulatory Commission (FERC) on September 28, 2017.
IECA has testified on several occasions on the importance of coal and nuclear baseload electricity generation to the manufacturing sector. And, though we remain supportive of both coal and nuclear, we are opposed to providing subsidies that would damage competitive markets.
As large stakeholders, who consume 26 percent of U.S. electricity and spend approximately $65 billion on electricity each year, the manufacturing sector is very concerned about this proposed rule. The proposal is anti-competitive and if implemented, it would distort, if not destroy, competitive wholesale electricity markets, increase the price of electricity to all consumers, and directly negatively impact the competitiveness of U.S. manufacturing.
The proposal would force U.S. manufacturers to pay billions of dollars in subsidies to the owners of uneconomic and obsolete coal and nuclear power plants. The retirement of certain uneconomic power plants represents a normal and efficient functioning of competitive markets and has been ongoing for decades. The owners of these plants have already been fully compensated for their costs.
The Industrial Energy Consumers of America is a nonpartisan association of leading manufacturing companies with $1.0 trillion in annual sales, over 3,400 facilities nationwide, and with more than 1.7 million employees worldwide. It is an organization created to promote the interests of manufacturing companies through advocacy and collaboration for which the availability, use and cost of energy, power or feedstock play a significant role in their ability to compete in domestic and world markets. IECA membership represents a diverse set of industries including: chemicals, plastics, steel, iron ore, aluminum, paper, food processing, fertilizer, insulation, glass, industrial gases, pharmaceutical, building products, automotive, brewing, independent oil refining, and cement.
By Industrial Energy Consumers of America
Copyright October 10, 2017, Mike Shiloh, Texas Energy Report LLC, www.texasenergyreport.com, All rights are reserved
October 10, 2017
Alex Mills, President of Texas Alliance of Energy Producers, Announces Retirement
WICHITA FALLS, TX -- The Texas Alliance of Energy Producers announced today that Alex Mills will retire effective Dec. 31, 2017 as President and Chief of Staff.
Mills became President of the Texas Alliance of Energy Producers in 2000, following the merger of the North Texas Oil & Gas Association (NTOGA) and the West Central Texas Oil & Gas Association (WeCTOGA).
Mills moved to Wichita Falls in 1994 as Executive Vice President of NTOGA after living eight years in Washington, D.C. where he served as Vice President of the Independent Petroleum Association of America, the national organization for the independent oil and gas industry. He also served as Executive Vice President of the West Central Texas Oil & Gas Association in Abilene from 1981 to 1986.
He worked as Managing Editor of The American Oil & Gas Reporter, and for several newspapers, television and radio stations in Texas. He authors a weekly column concerning energy issues, which appears in newspapers across Texas.
He is a frequent speaker on energy topics, including speaking engagements at Texas Tech University and participated in the Distinguished Lecture Series at the Dillard Business School at Midwestern State University.
Texas Governor Ann Richards appointed him to the Interstate Oil & Gas Compact Commission in 1994 and Governor George W. Bush re-appointed him in 1995.
He serves on the Board of Directors of the Domestic Energy Producers Alliance and the National Stripper Well Association.
He earned a Bachelor of Arts degree from the University of North Texas, and served as President of the UNT Alumni Association in 1997-1998.
He served in the U.S. Army Security Agency from 1966 to 1970.
The Alliance won the Association of the Year Award in 2008 presented by Energy Advocates in Washington, D.C. and again in 2011. Also, the American Oil and Gas Historical Society presented the Alliance with the prestigious 2008 Oil Patch Preservation Award in Houston.
Based in Wichita Falls, the Alliance also has offices in Austin and Houston.
By Texas Alliance of Energy Producers
Copyright October 10, 2017, Mike Shiloh, Texas Energy Report LLC, www.texasenergyreport.com, All rights are reserved
October 10, 2017
Commissioner Ryan Sitton to Highlight National Energy Awareness Month Around the State: Press Release
AUSTIN  - In honor of National Energy Awareness Month, Texas Railroad Commissioner Ryan Sitton will travel around the state throughout October educating community and oil and gas groups about the enormous impact of energy on our everyday lives, the importance of an all-of-the-above energy strategy, and the path forward to Texas' energy dominance.
Established in 1991 by President George H.W. Bush, National Energy Awareness Month's purpose is to "promote public awareness of our nation's energy needs and the energy options that are available to us. With strong leadership at all levels of government-and with the sustained cooperation of business, industry, energy providers, and concerned consumers-we can implement the sound energy policies and practices that are essential to America's well-being."
"In my mind, every month is National Energy Awareness Month. Educating Texans about the role of energy in our state's economy - and advocating for efficient energy production and environmental stewardship - is ongoing," Sitton said. "As Texas exponentially grows its production of clean and reliable energy and establishes the U.S. as a global energy leader, it is increasingly important that the public understands how wind, solar, coal, nuclear, oil and natural gas contribute to our all-of-the-above energy strategy."
Commissioner Sitton will speak with the following organizations:
Winstead's Annual Oil and Gas Seminar (RSVP closed)
Kiwani's Club of Houston (Sign up here)
Montgomery County Chamber of Commerce (Sign up here)
TXOGA Lone Star Energy Forum (Sign up here)
Association of Women in Energy (Sign up here) 
MEEN 381 Undergraduate Seminar at Texas A&M (Closed)
By Railroad Commission of Texas
Copyright October 10, 2017, Mike Shiloh, Texas Energy Report LLC, www.texasenergyreport.com, All rights are reserved
October 10, 2017
Texas Electricity Ratings Launches Mobile Shopping Apps: Press Release
HOUSTON, Oct. 2, 2017 -- Texas Electricity Ratings announced the launch of their Texas Electricity Ratings mobile apps, today. The apps feature customer reviews and allow users to compare major electricity suppliers and rates in the deregulated areas of Texas.
The Android and iOS native apps offer all the features of the TexasElectricityRatings.com desktop website optimized for the mobile lifestyle. They feature dynamic, residential and small business prices updated daily, as well as the latest news and customer ratings, all designed to simplify the selection of a Texas electricity provider.
"The Texas retail electricity market remains one of the most competitive and innovative markets for energy providers. Our goal is to provide access to our energy ratings and shopping platform for all Texas electricity customers, regardless of their modality. Expanding into the Google Play and iTunes marketplaces provide another touch point and, ultimately, a better experience for energy shoppers," states Electricity Ratings, LLC CEO, Karl Trollinger.
Links to the apps can be found on the Texas Electricity Ratings Apps page. The Android app can be found in the Google Play Store. The Texas Electricity Ratings Apple iOS app can be found in the iTunes Store.
About Electricity Ratings
TexasElectricityRatings.com is the destination web site for Texas residents and business owners to share their opinions and have a voice in the Texas Deregulated Energy Market. Electricity Ratings, LLC helps people make informed buying decisions through its consumer reviews platform and is a reliable source for valuable consumer insight, advice, in-depth energy company service evaluations, and personalized recommendations. Since 2009, we've helped over 1.5 million shoppers find the best energy providers and rates. Electricity Ratings, LLC operates similar consumer energy shopping websites in Georgia, Ohio, Illinois, Connecticut, and New York.
By Texas Electricity Ratings
Copyright October 10, 2017, Mike Shiloh, Texas Energy Report LLC, www.texasenergyreport.com, All rights are reserved
October 10, 2017
NextDecade Subsidiary Gets Cameron County Tax Abatements
A subsidiary of a Texas liquified natural gas development company has new concessions from Cameron County for a proposed LNG export project at the Port of Brownsville.
Rio Grande LNG, LLC -- an affiliate of NextDecade Corp., based in The Woodlands north of Houston -- says its receiving Chapter 312 tax exemptions from the county for its proposed Rio Grande LNG project that will remove county taxes in stages over the first ten years of each phase of the project.
In return, Rio Grande LNG has said it will pay $2.7 million each year of tax abatements to the county as payments-in-lieu-of-taxes, the company said.
The project is expected to result in spending of more than $15 billion in Cameron County on the Rio Grande and associated Rio Bravo Pipeline, direct creation of more than 6,000 jobs during the construction phases and the addition of 250 permanent jobs.
The company said the pipeline and port project will also indirectly support more than 3,000 permanent Cameron County area jobs after construction.
The projects are expected to complete the regulatory approval process by mid-2018 and, providing the project is finalized, should be completed in 2022, according to Rio Grande LNG.
The Rio Bravo pipeline, started in 2015, is to be a natural gas pipeline between the Brownsville Rio Grande LNG site and the Agua Dulce market hub area.
By Mike Shiloh
Copyright October 10, 2017, Mike Shiloh, Texas Energy Report LLC, www.texasenergyreport.com, All rights are reserved
October 10, 2017
5th Circuit Rebuffs Texas Rancher's Challenge to Pipeline
A West Texas ranch owner challenging the use of eminent domain by Trans-Pecos Pipeline LLC, a private company, to build a pipeline across his property has lost his fight against the condemnation proceeding in a federal appeals court, Reuters reports.
In a decision last Tuesday, a three-judge panel of the 5th U.S. Circuit Court of Appeals said John Boerschig is not entitled to a preliminary injunction against the condemnation action because he has not shown he is likely to prevail in the end.
Boerschig challenged the constitutionality of Texas' eminent domain proceedings, a battle that is "a long shot at best," the appeals court said.
Boerschig's attorneys argued that the Texas eminent domain law illegally delegated condemnation authority to a private party (Trans-Pecos Pipeline), and that the process failed to provide an opportunity for the plaintiff to participate in a "predeprivation hearing" where the condemnation can be challenged.
The Texas eminent domain laws "are longstanding and have withstood previous legal challenges," including prior claims that the lack of a "predeprivation hearing" violated the law, according to Lexology.
"Boerschig's legal reliance on the 'private nondelegation doctrine,' was described by the Fifth Circuit as having a place in Fourteenth Amendment law 'long recognized but seldom invoked.'"
The legal tactic failed before the 5h Circuit Court because the few federal cases cited in connection with this proposition "cannot dictate how state governments allocate their powers."
By Mike Shiloh
Copyright October 10, 2017, Mike Shiloh, Texas Energy Report LLC, www.texasenergyreport.com, All rights are reserved
October 10, 2017
Burnett Oil Back On the Search In Florida's Big Cypress
Ft. Worth's Burnett Oil Co. is back on the search for oil in Florida's Everglades region after winning new state approval.
Burnett had requested permission from the Florida Department of Environmental Protection to finish testing in the Big Cypress National Preserve in far south Florida west of Ft. Lauderdale, but the agency deferred to a US National Park Service approval for the testing.
The Park Service had given the okay to Burnett during the Obama administration and that okay was upheld by the US District Court for the Middle District of Florida earlier this year.
The company sent in specialized trucks to find seismic evidence of oil underground but had to leave because of the rainy season.
Those trucks are expected to return under the supervision of the Florida EPA, over the objections of environmental groups that are worried about wildlife being threatened by the oil search.
Some of the groups have said that Burnett's activities earlier this year had damaged some Big Cypress trees and wetlands, which are owned by the federal government, but the Florida agency said it's watching the search activities closely to protect wildlife and wetlands.
By Mike Shiloh
Copyright October 10, 2017, Mike Shiloh, Texas Energy Report LLC, www.texasenergyreport.com, All rights are reserved
October 10, 2017
EPA Begins Repeal of the Clean Power Plan
The head of the Environmental Protection Agency is taking steps to repeal the Clean Power Plan (CPP), which was put into place during the Obama administration.
Scott Pruitt said Tuesday that the 2015 law aimed at reducing carbon emissions from power plants said the repeal process is underway as part of plan to narrow the Clean Air Act.
Pruitt said he has signed a notice to propose a rollback of the plan, the start of a long process that is expected to include public and industry comments, lawsuits and controversial tweaks of already existing laws.
Recent studies have indicated that Texas would have to do considerably more than it already has to meet emissions standards established by the CPP.
The Clean Power Plan would have pressured states to move away from coal as an energy source, toward sources that produce fewer carbon emissions, but wasn't expected to take effect until 2022 and is now tied up in the courts.
Still, a number of states have already been moving toward complaince with the plan.
In its plans to link the Obama plan with the Clean Air Act, the EPA would limit regulations exclusively to the emissions produced by individual sources.
But Pruitt is taking it one more step: his agency is asking for comments on whether it should even regulate carbon pollution at all, absent an assignment to do so by Congress.
The Obama plan set emissions reduction targets for states but left it to the states to decide how to meet the targets.
Still, the announcement by Pruitt is seen as a blow to carbon reduction efforts, even though trends toward renewable and sustainable energy are already underway nationwide. 
By Mike Shiloh
Copyright October 10, 2017, Mike Shiloh, Texas Energy Report LLC, www.texasenergyreport.com, All rights are reserved
October 10, 2017
Apache Expands Alpine High Drilling, Delays Buildouts, Avoids Underground Water Systems
Apache Corp. is ramping up the number of drilling locations at the Alpine High play in southwest Texas, the company's Delaware Basin discovery that was announced last year.
In September 2016 there were up to 3,000 spots where drilling was underway, but there are now more than 5,000 such drilling locations, according to Apache CEO and President John J. Christmann IV.
They consist of "3,500+ locations in the 'wet gas' window, 1,000+ locations in the dry gas window and 500+ locations in the emerging Wolfcamp/Bone Springs oil play. Each of these plays is highly economic at current commodity prices on a fully burdened development case scenario," he said in a company statement.
As part of an overview of the company, Christmann said Monday that an infrastructure buildout has been delayed at Alpine High, especially at two central processing facilities.
The startup of a planned Hidalgo facility in the south portion of the Alpine has been delayed until the final quarter of this year, while the Cypress north portion facility is delayed until the first quarter of 2018, because of production postponements in manufacturing facilities caused by Hurricane Harvey.
Apache also plans to bring three more pads to the southern Midland Basin by the end of the year, for 20 total wells in the area.
In Christmann's statement, he emphasized that the company is looking closely at underground water systems in the Alpine High area, especially in the far western portion, and the complexities of drilling near the water supplies require Apache to "minimize any drilling activity in this area," and the company's location counts "have never included any wells in these areas."
Apache is updating its 2018 plan, Christmann said, "which will incorporate our latest views on production volumes, industry inflation, continued operating efficiencies and possibly a lower oil price assumption. As a reminder, a five-dollar movement in oil prices impacts our annual cash flows by approximately $350- to $400-million dollars."
He added that the company took a number of steps ahead of Hurricane Harvey to secure alternative distribution, avoid flaring and minimize material shut-ins, to assure continued production during the storm.
By Mike Shiloh
Copyright October 10, 2017, Mike Shiloh, Texas Energy Report LLC, www.texasenergyreport.com, All rights are reserved
October 8, 2017
FRED Texas Leading Economic Inex: Down
The Leading Economic Index for Texas is down a full pecentage point in recent weeks from 2.2% to 1.2% according to recent Federal Reserve Economic Data:
The latest sustained downturn effect began in July and is the longest in a year and a half, following a general upward trend that began in April 2015.
The state leading index aims at predicting the six-month growth rate of the state's coincident index. In addition to the coincident index, the models include other variables that lead the economy: state-level housing permits (1 to 4 units), state initial unemployment insurance claims, delivery times from the Institute for Supply Management (ISM) manufacturing survey, and the interest rate spread between the 10-year Treasury bond and the 3-month Treasury bill.
By Mike Shiloh
Copyright October 08, 2017, Mike Shiloh, Texas Energy Report LLC, www.texasenergyreport.com, All rights are reserved
October 5, 2017
HC Judge Says Houston Needs Third Reservoir: QR
Hurricane Harvey needs to be the trigger for a more comprehensive Harris County flood control plan, and to look at the future the area must look at the past, the county judge told a state committee Wednesday.
Ed Emmett told the Texas House Natural Resources Committee that the Houston region should map the waterways of the past, noting reservoirs and development locations, according to the Quorum Report.
Another levee is needed to manage flood waters, state and Harris County officials have agreed, and several locations for it are being considered.
Emmett said that while a county bond issue is okay, tapping into the state Economic Stabilization Fund is a better idea.
"If this isn't a rainy day, then what is...It's $500 million to protect this entire region. To me, that would be a good investment," he said.
"I believe very firmly that Harvey ought to be a redefining moment for the state of Texas," Emmett told the committee. "We have to change the way we do a lot of things."
Houston floods in 1935 led to the 1940s creation of the Harris County Flood Control District and the construction of the Addicks and Barker reservoirs, Emmett noted.
Plans to manage runoff from the Cypress Creek watershed, where much of the worst flooding occurred in Hurricane Harvey, never came to fruition, and ideas to manage flooding along Galveston Bay and the Houston Ship Channel are expected to undergo review, while a proposed coastal barrier, nicknamed the "Ike Dike," is being studied by a legislative committee.
By Quorum Report, Mike Shiloh
Copyright October 05, 2017, Mike Shiloh, Texas Energy Report LLC, www.texasenergyreport.com, All rights are reserved
October 5, 2017
Permian Player Oryx Midstream Weighs Options
Oryx Midstream Services is weighing its options as a player in the red hot Permian Basin.
The three-year-old private equity-backed midstreamer could have an initial public offering, but there is also talk of a potential sale with Oryx expressing a preferred valuation of up to $3 billion, according to Bloomberg.
The news service recently noted that several energy giants have expressed interest in buying Midland-based Oryx, including the master limited partnerships Enterprise Products Partners and Magellan Midstream Partners along with refiner Valero Energy.
Among the attractions: Oryx's growing footprint in the Permian Basin, where production is expanding at a rapid rate as producers tap into its treasure trove of oil, according to Motley Fool, and the company's "visible growth prospects."
"For example, the company can expand the Oryx Trans Permian pipeline system's capacity up to 200,000 barrels per day in the near term. In addition, the company recently announced that it would build a new regional crude oil transport pipeline."
By Mike Shiloh
Copyright October 05, 2017, Mike Shiloh, Texas Energy Report LLC, www.texasenergyreport.com, All rights are reserved
October 5, 2017
Dynegy Welcomes Proposed Illinois Pollution Reductions Rule Changes
Coal-fired plants have already been retrofitted to the tune of billions of dollars in the past 20 years, reducing sulphur dioxide emissions, company says
Dynegy Inc. says it supports a new ruling in Illinois that reduces pollution and simplifies regulations.
The Illinois Pollution Control Board is considering a plan from the state's version of the EPA that would condense two sets of annual emission rate limits down to one, bringing them more in line with federal standards, Dynegy said Wednesday.
The "Multi-Pollutant Standard" rule change would affect eight of Houston-based Dynegy's downstate coal-fueled generation plants.
The annual emissions tonnage limitations would by reduced by 20% under the new rules, but Dynegy said the simplified rules will make compliance easier and anyway, "these plants have already been retrofitted with approximately $2 billion in emission control technology that reduced sulfur dioxide emissions by 90% since 1998, with significant reductions of nitrogen oxides (NOx) and other emissions as well," according to the company's Executive Vice President of Regulatory Affairs, Dean Ellis.
By Mike Shiloh
Copyright October 05, 2017, Mike Shiloh, Texas Energy Report LLC, www.texasenergyreport.com, All rights are reserved
October 5, 2017
Producers Midstream To Serve Delaware Basin With New Pipeline
A new natural gas gathering and processing system is in the works from Producers Midstream LP (PMLP), with 70 miles of pipeline and 40,000 horsepower compression to serve the Delaware Basin.
Dallas-based PMLP said the line will be anchored by Charger Shale Oil Co. and the pipeline will be handled through PMLP's formation of Culberson Midstream LLC, which will be operated by PMLP and will include oil, gas and water services.
Producers also says its constructing a new cryogenic natural gas processing complex that will serve a capacity up to 260 million cubic feet per day, with sources in the Wolfcamp, Avalon and Bone Springs formations.
Producers Midstream CEO Jim Bryant, the company's founder, said the "greenfield development will allow Charger and other operators in the area to take advantage of a best-in-class gathering and processing system designed specifically to meet the needs of the rapidly expanding Basin."
Charger is a pure-play 48,000 net acre Delaware Basin oil and shale gas developer started last year that includes some Tall City Exploration executives (including founder Joe Magoto) and specialists and is based in Midland.
The system is expected to be operational by the end of the first quarter of next year.
By Mike Shiloh
Copyright October 05, 2017, Mike Shiloh, Texas Energy Report LLC, www.texasenergyreport.com, All rights are reserved
October 5, 2017
Oil, Natural Gas Prices Pass Milestones
By Alex Mills
Crude oil and natural gas wellhead prices crossed a psychological price threshold last week as crude oil closed at $50.41 and natural gas closed at $3.094 on the New York Mercantile Exchange (NYMEX) on Wednesday, Sept. 20.
The Energy Information Administration (EIA) released its weekly oil inventory report on Wednesday showing crude inventories rose 4.6 million barrels during the week ending Sept. 15, which is more than what many traders expected.
A report by Bank of America Merrill Lynch pointed out that the increase in oil inventories can be attributed to a refinery utilization of just 73 percent.  Refineries on the Gulf Coast continue to struggle to get back in full operation following Hurricane Harvey.
Crude oil prices increased $1.11 over the previous week and up $6.97 compared to same period in 2016.
Gasoline inventories fell by about 2.13 million barrels, and distillate stockpiles fell by 5.7 million barrels. Gasoline for October delivery settled at $1.6551 per gallon.
Iraq's oil minister commented last week just before a meeting of OPEC members in Vienna that Iraq and other OPEC members are considering options regarding its production-cut agreement, including an extension beyond March and a deeper output cut than the agreement reached in November of 1.8 million barrels per day.
Brent oil settled at $56.24 – up $1.10 - for November delivery on ICE on Sept. 20, which is $5.83 higher than the West Texas Intermediate (WTI) closing on NYMEX.
Natural gas prices on NYMEX have averaged $3.019 in September and closed at $3.094 on Sept. 20 an increase of $0.036 from last week and up $0.047 over the same week 2016.
Natural gas sales to Mexico have played an important part in price stability. Mexico gets more than half of its natural gas from Texas and U.S. Sending natural gas across the border to Mexico opens the door for an "incredible opportunity" for Texas, Ryan Sitton, a member of the Texas Railroad Commission, said during a meeting to discuss reforms in Mexico's energy sector.
"We have an incredible opportunity in Texas to provide Mexico with much-needed energy resources while stimulating our own economy," Sitton said in a statement.
Sitton has pointed out that Mexico imports about 60% of its natural gas from the U.S., and most of that comes from Texas. By 2019, U.S. natural gas exports to Mexico could double.
"Mexico's energy reforms and demand coupled with near historic highs in U.S. production are creating an enormous opportunity from which both countries will benefit," he said in comments.
Mexico's government in July held its first auction to access capacity to natural gas infrastructure as part of the country's sweeping energy reforms. Those reforms could bring in up to $415 billion in investments over the next 20 years as the country establishes links to the rest of the world.
President Trump wants to renegotiate the terms of the 23-year-old North American Free Trade Agreement. U.S. Trade Representative Robert Lighthizer said from Mexico City in early September a "new modern agreement" was on the table that could "address the needs of those harmed by the current NAFTA, especially our manufacturing workers."
Alex Mills is President of the Texas Alliance of Energy Producers.  The opinions expressed are solely those of the author.
By Alex Mills
Copyright October 05, 2017, Mike Shiloh, Texas Energy Report LLC, www.texasenergyreport.com, All rights are reserved